Dubai is a highly visited place by tourists year long. Also, Dubai Tourism adding new attractions to the city. When we talk about any kind of attraction then Dubai attractions top's all the parameters. Dubai is world-famous for its tallest building which is Burj Khalifa; apart from that, the city has humongous shopping malls and indoor aquariums which attract a lot of tourists for shopping. Also, the city has beautiful beaches and pleasant weather throughout the year. The city is also known for its amazing and well-developed infrastructure. Dubai also is a land to a lot of famous malls, exclusive hotels, restaurants, and nightspots.
Dubai is a dream vacation land for many too; as its beauty attracts a lot of people. So, if you want to visit Dubai, like never before and on budget. You should surely try visiting and planning your Dubai tour packages with Roaming Routes. Where the trips are curated in accordance with your own choices and preferences. Also, post corona period all the hotels are well sanitized and the corona protocols are maintained well. So, to have a comfortable and Hassle-free trip to Dubai; book it today with Roaming Routes.
9 Tourist Attractions of Dubai-
There are a lot of tourist places which one can check out; during their vacation to Dubai. Some of them are extremely famous worldwide, and the visitors especially travel to Dubai to check them out. So some of the most exotic and famous tourist attractions of Dubai are as follows-
1. Bhurj Khalifa-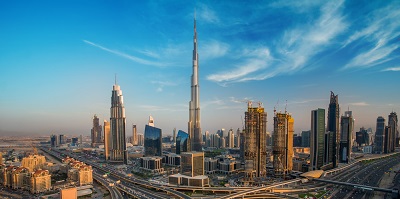 It is a must-visit to check out the world's tallest building in Dubai; which is towering a height of around 2,700 Feet. It also has 2 observational decks, with a Las Vegas-inspired fountain. And also have cities best luxurious hotels and restaurants to give you the most scrumptious food and comfortable stays. This 21st-century man-made marvel should be the first to visit while you are traveling to Dubai. Make sure you book your tickets in advance so that you have a hassle-free and once-in-a-lifetime experience while you visit Dubai.
2. The Dubai Mall-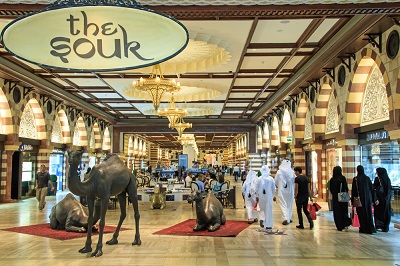 Yet another spot that is a must-visit is the grand Dubai Mall; which is home to more than 1200 stores, large walk aquariums, and world-class parking for 14,000 vehicles. The mall has been ranked as the number one shopping place by Grazia Magazine in 2010.
Apart from shopping, the mall offers world-class amusement and entertainment to travelers. It also has an Underwater zoo, which has a collection of more than 300 marine animals. Another activity is the Ice rink, which can be enjoyed with family. Also, the mall has a gaming zone, a cinema complex, and a lot of leisure activities under one roof.
3. Palm Jumeirah-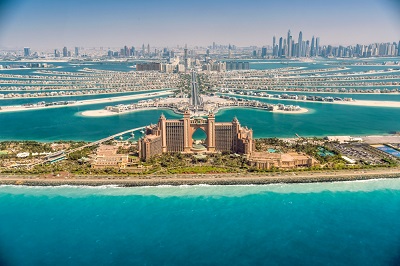 It is an artificial archipelago, created by the land reclamation which is extended to the Persian Gulf. Palm Jumeirah is the most prominent tourist attraction in Dubai. This island houses Dubai's major tourist spots like; Atlantis, The palm, Lost Chambers Aquarium, and the adventure park. The entrance to this magnificent land is through a bridge that joins the mainland bridge. The place is home to a lot of famous villas, retails, villas, hotels, and resorts. You get the most exclusive views of this magnificent land is by aerial views, which is done through a helicopter or a plane.
4. The Famous Dubai Desert Safari-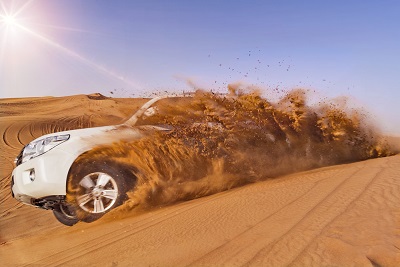 Apart from the great architecture and well-planned city. Dubai is also famous for its adventurous streak. A desert is located at the heart of the city; for you to enjoy the famous desert safari. The experience is worth every penny spent by you and is an experience of one kind. Visitors can also experience the desert camping with scrumptious food and belly dancing. In the evening you can also go for Dune bashing, quad biking, and camel riding, in the desert.
5. Miracle Garden-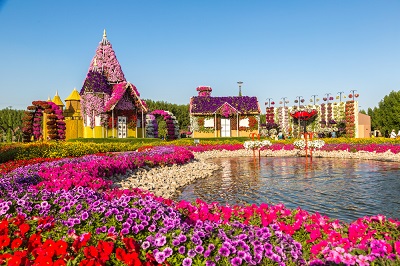 The Dubai Miracle Garden is one of the globally known and biggest natural gardens which holds more than 45 million flowers and plants. This garden is spread across the 72,000 sq meter area, and only allows visitors from mid-November to Mid May.
You can visit the Emirates replica which is made out of 500,000 fresh plants and flowers, underground lost paradise, the lake, or can opt for adventurous trampoline jumps in the Dubai miracle garden.
6. Jumeirah Mosque-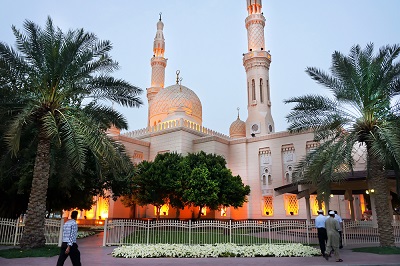 Jumeirah mosque is an excellent example of Islamic architecture. This is the only mosque open to non-Muslim visitors. The mosque glows during nighttime; which shows the beautiful architecture of the building.
To fully enjoy the visit to the mosque; one can book a tour of 75 minutes with the Sheik Mohammed Center for Cultural Understanding (SMCCU) which is open for 6 days in a week from Saturday to Thursday at 10. Photography is also allowed inside the marvelous mosque; thus it is worth bringing a camera and clicking some picturesque pictures inside the mosque.
7. Jumeirah Beach-
This is a sandy beach, along the coast; and thus it is the most visited place by the tourists. Here you can visit the Wild Wadi Water Park, Jumeirah Beach Hotel, and Burj Al Arab. Also, there are a lot of opportunities for water sports like jet skiing, kite surfing and which you can enjoy with your family and friends.
8. Dubai Butterfly Garden-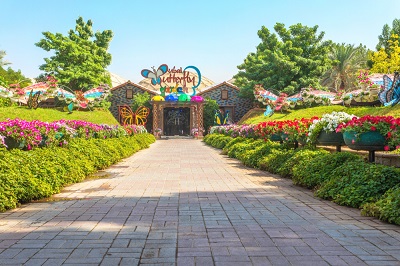 Situated in Dubai Miracle garden; which is housing more than 15, 000 butterflies, where there are more than 50 various species with various colors, feathers, and shapes. Dubai is an indoor garden with 10 custom build domes. You can enjoy beautiful wonderful nature and beautiful habitat with your family friends.
9. Bollywood Parks-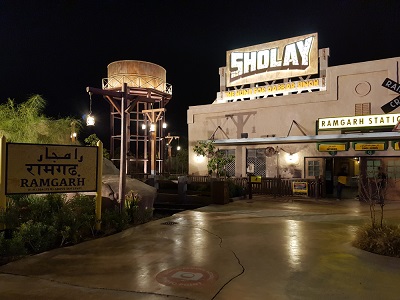 It is one of the first Bollywood-themed parks. Apart from the resorts and Dubai park and resorts, it is a perfect location to know what it takes to make the Indian movie Industry works. Visitors can visit the famous 4 D sets of Krish and Lagaan. You can come alive to the magical world of cinema by visiting Bollywood park.
Also Read: Evening Desert Safari – A 6-Hours Thrilling Experience
Conclusion-
Dubai is a wonderful place one should definitely visit once in a lifetime. The place is known for its wonderful architecture and its beautiful buildings. One can visit with family Dubai with family friends and spouse; to get the fullest of Dubai. So book your trips with Roaming Routes to get the most out of the trips. Mr. Anurag Kothari is the man behind who curates the trips for you; he has a wide experience in traveling for 15 years. So, he curates the most adventurous and pocket-friendly trips for you.
To get more information about the different destinations and about the various trips and tours; check it out on Roaming Routes and book your trip today.